The Effect of Teaching Palliative Care on the Self-Efficacy of Elderly Patients with Chronic Heart Failure
Mahnaz Modanloo

Associate Professor

Ameneh Tazikeh-Lemeski

Associate Professor

Shohreh Kolagari

Assistant Professor
Palabras clave:
Heart Failure, Palliative Care, Self-Efficacy, Elderly, Teaching
Resumen
ABSTRACT
Objetive: Determine the effect of teaching palliative care on the self-efficacy of elderly with Chronic Heart Failure. Material and Methods: This single-blind randomized clinical trial was done on patients with Chronic Heart Failure attending to the heart clinics of Golestan University of Medical Sciences in 2018. 48 eligible patients with class-III were selected via convenience sampling. Patients allocated into control and intervention group randomly (n=32). Palliative care training was done for intervention group for six weeks. Data was gathered through the Cardiac Self-Efficacy Scale (CSES) on three time points (before, immediately, and one month after intervention). Data were analyzed in SPSS-18 using independent t-test, chi-squared, Fisher's exact, and repeated-measures ANOVA with corrected Bonferroni post-hoc test. Results: Finding showed that before intervention the mean scores of self-efficacy in intervention and control group was 23.95±8.34 and 24.11±9.41, respectively. Immediate and one month after intervention it was 26.30±8.30 vs. 28.95±8.53 in intervention group and 24.68±9.32 vs. 25.53±10.39 in control group. In intervention group there was no significant difference between the mean scores of before with immediate and one month after intervention. However, there was a significant difference between the two time follow up in both intervention (p<0.0001) and control (p<0.003) groups. Conclusion: Although the education of palliative care has increased the ability to care in elderly, it seems that self-managing in complex conditions is required follow-up over time.
Descargas
La descarga de datos todavía no está disponible.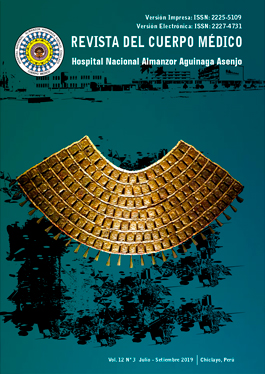 Cómo citar
Modanloo, M., Tazikeh-Lemeski, A., & Kolagari, S. (2020). The Effect of Teaching Palliative Care on the Self-Efficacy of Elderly Patients with Chronic Heart Failure. Revista Del Cuerpo Médico Hospital Nacional Almanzor Aguinaga Asenjo, 12(3), 201 - 207. https://doi.org/10.35434/rcmhnaaa.2019.123.530
Sección
Artículo Original

Esta obra está bajo una Licencia Creative Commons Atribución 4.0 Internacional.